Shrimp Shuffle
Shrimp make surprisingly
good dancers and will jump
at the chance to show off
their skills. Try not to
bump into anyone.
 Rhythm Heaven Fever
Shrimp Shuffle (エビおんど, Ebi Ondo?) is the 2nd Rhythm Game of Stage 7 (32nd overall) in Rhythm Heaven Fever.
Gameplay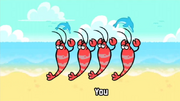 In this game, the player is the third of the low tide dance quartet, The Shrimp Scamperers, and must move in sync with the others to the beat. The shrimps exclaim "Together!" to start the pattern, followed by the announcer saying "One, two, three! Three, two, one!" to the beat. Occasionally, the shrimp pause, which shifts the next pattern to the offbeat, before returning to the onbeat afterwards. The announcer sometimes replaces "Three, two, one!" with "A, B, C!", indicating the shrimp have to jump backwards on "C!"
Controls
Ⓐ: Hop
Ⓐ+Ⓑ: Jump backwards
Perfect!/Ace!

: The player's shrimp hops along with the others.

Early!/Late!

: The player's shrimp hops along with the others, but slightly out of sync. Unlike most games, there's no visual or audio effect to indicate this.

Miss...

: The player's shrimp bumps into one of the other shrimps.
Results
Dolphin Assessment

You, uh, kinda crowded the others.
You had some trouble jumping back.
You had trouble with the waits.

Eh. Good enough.

Solid tail work out there!
Really good leaping!
You waited very patiently.
Dolphin Diagnosis

You were all over the place.
Your jumps were a little off.
You didn't listen to the instructions.

Good try.

Your tail work was great!
Your jumps were impressive.
You know when to wait.
Epilogue
Back to practice...
There's no "I" in "prawn"!
The perfect cocktail for success!

We should have practised more.

We make a great team!

The cocktail for success!
Appearances
Trivia
Humorously, whenever the Shrimp Scamperers pause, the dolphins in the background halt in midair.
The game's music and prologue jingle are similar to those of The☆Bon Odori.
The game is based around a pun that was lost in translation. The voice cues the backwards jump can refer to either "ABC", the first three letters of the English alphabet, or "Ebi Sea", with "Ebi" meaning "Shrimp" in Japanese.
Unused
Main article: Shrimp Shuffle/Unused
In Other Languages
Language
Name
Meaning
Japanese
エビおんど
Ebi Ondo
Shrimp Dance
English
Shrimp Shuffle
French
Marche des crevettes
Shrimp walk
German
Strandtänzer
Beach Dancers
Italian
Gamberetti Dance
Shrimp Dance
Spanish
Gambas al compás
Shrimp to the beat
Korean
춤추는 새우
Chumchuneun Saeu
Dancing Shrimp
Rhythm Tengoku (GBA/Arcade)
One Player
•
•
•
•
•
•
•
•
•
•
•
•
•
•
•
•
•
•
•
•
•
•
•
•
•
•
•
•
•
•
•
•
•
•
•
•
•
•
•
•
Arcade Exclusive
•
•
•
•
•
Two Player
•
•
•
•
•
•
•
•
•
•
•
•
•
•
•
•
•
•
Rhythm Heaven
•
•
•
•
•
•
•
•
•
•
•
•
•
•
•
•
•
•
•
•
•
•
•
•
•
•
•
•
•
•
•
•
•
•
•
•
•
•
•
•
Rhythm Heaven Fever
One Player
•
•
•
•
•
•
•
•
•
•
•
•
•
•
•
•
•
•
•
•
•
•
•
•
•
•
•
•
•
•
•
•
•
•
•
•
•
•
•
•
Two Player
•
•
•
•
•
•
•
Extra Games
Rhythm Heaven Megamix
Earth World
Honeybee Land
•
•
•
Machine Land
•
•
•
The First Gate
Citrus Land
•
•
•
Donut Land
•
•
•
The Second Gate
Barbershop Land
•
•
•

Songbird Land

•
•
•

The Third Gate

Lush Woods
Lush Tower
•
•
•
•
Honeybee Tower
•
•
•
•
Machine Tower
•
•
•
•
Citrus Tower
•
•
•
•
Donut Tower
•
•
•
•
Barbershop Tower
•
•
•
•
Songbird Tower
•
•
•
•
Heaven World
Star Land
•
•
•
Comet Land
•
•
•
Planet Land
•
•
•
The Fourth Gate
Mamarin Palace
Left-Hand Tower
•
•
•
•
Right-Hand Tower
•
•
•
•
Tibby's Mom
Shop
Shop No. 1
•
•
Shop No. 2
•
•
Shop No. 3
•
•
Shop No. 4
•
•
Shop No. 5
•
•
Shop No. 6
•
•