Rhythm Tengoku (Arcade) was an arcade version of Rhythm Tengoku. It was developed by Nintendo and published by SEGA. It was released on September 20th 2007.
History
According to an Iwata Asks interview apparently SEGA approached them with an offer for an arcade version as the game was popular with SEGA staff. Osawa and Ko Takeuchi was impressed because he never thought Rhythm Tengoku was able to gain a following.
List of Rhythm Games
All of the rhythm games that appeared in the GBA version can also be played in this one directly from the start. However, the arcade version has an Extra stage of games.
Additionally, this version has a 2P Mode.
Differences
Ninja Bodyguard uses Left and Right on the D-pad, instead of D-pad and A. The arrows above the ninja are changed accordingly.
Perfects can happen in the middle of the game, but only occur if the player has played perfectly up to a certain point.
The game has a leader board feature, tallying up the score based on the players flow at the end of a stage.
It has a higher resolution than the GBA version, but the graphics are generally the same.
Gallery
Trivia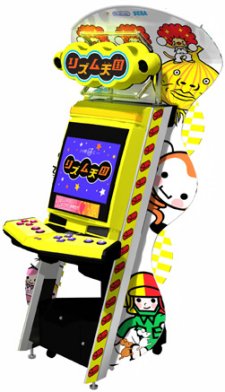 This is one of the very few games developed by Nintendo and SEGA.
This was playable in Hyper Japan 2016 in London.
This is the first game in the series to have a Two-Player mode.
External Links
Community content is available under
CC-BY-SA
unless otherwise noted.