Karate Man
The key to karate, as in all other
things, is rhythm. Now, let us throw
some stuff at you for you to punch.


Rhythm Heaven Megamix
Karate Man (カラテ家, Karateka?) is the 1st Rhythm Game of Honeybee Land (1st overall) in Rhythm Heaven Megamix.
The long version, Karate Man Returns!, appears in Stage 1 of Rhythm Tengoku and Honeybee Tower in Rhythm Heaven Megamix.
The arrange version, Karateka 2, appears in Technician in Rhythm Tengoku.
Gameplay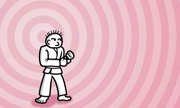 The game revolves around Karate Joe punching objects in a featureless pink plain. As objects fly by him, the player must press the button or tap the touch screen to punch them off-screen. In the middle of the game, the background changes to circlular patterns alternating between a brighter and darker color.
Controls
Perfect!/Ace!

: Karate Joe punches the object off-screen.

Early!/Late!

: Karate Joe mistimes the punch, causing him to wince as the object lands on the ground just in front of him.

Miss...

: Karate Joe gasps as the object flies past him.
Results
Wisdom from the Master

You needed to focus on the basics.
Your triple punches were poor.

Eh. Passable.

You have skill in the fundamentals.
Your triple punches were precise!
Epilogue
I'm ready to try again! You hear
me, seagulls?! I'm ready!
My mind...is filled with stars.
I could karate all day!
Soccer Ball
Karate Memory #1

As a child, I dreamed of being
a soccer player. My father
wouldn't hear of it. "You must
master karate before you
leave my house!" I still live
in the basement.
The Skill Star appears on the Soccer Ball in the middle of the game.
Karate Man appears in the following Challenge Train courses:
Appearances
Video
Trivia
Unused
Main article: Karate Man/Unused
In Other Languages
Language
Name
Meaning
Japanese
カラテ家
Karateka
Karateka
English
Karate Man
French
Karatéka
Karateka
German
Karateka!
Karateka!
Italian
Karate Ka
Spanish
Kárate Killo
Karate Killo
Portuguese
Karate Man[1]
Korean
격투가
Gyeogtuga
The Fighter
References
Rhythm Tengoku (GBA/Arcade)
One Player
•
•
•
•
•
•
•
•
•
•
•
•
•
•
•
•
•
•
•
•
•
•
•
•
•
•
•
•
•
•
•
•
•
•
•
•
•
•
•
•
Arcade Exclusive
•
•
•
•
•
Two Player
•
•
•
•
•
•
•
•
•
•
•
•
•
•
•
•
•
•
Rhythm Heaven
•
•
•
•
•
•
•
•
•
•
•
•
•
•
•
•
•
•
•
•
•
•
•
•
•
•
•
•
•
•
•
•
•
•
•
•
•
•
•
•
Rhythm Heaven Fever
One Player
•
•
•
•
•
•
•
•
•
•
•
•
•
•
•
•
•
•
•
•
•
•
•
•
•
•
•
•
•
•
•
•
•
•
•
•
•
•
•
•
Two Player
•
•
•
•
•
•
•
Extra Games
Rhythm Heaven Megamix
Earth World
Honeybee Land
•
•
•
Machine Land
•
•
•
The First Gate
Citrus Land
•
•
•
Donut Land
•
•
•
The Second Gate
Barbershop Land
•
•
•

Songbird Land

•
•
•

The Third Gate

Lush Woods
Lush Tower
•
•
•
•
Honeybee Tower
•
•
•
•
Machine Tower
•
•
•
•
Citrus Tower
•
•
•
•
Donut Tower
•
•
•
•
Barbershop Tower
•
•
•
•
Songbird Tower
•
•
•
•
Heaven World
Star Land
•
•
•
Comet Land
•
•
•
Planet Land
•
•
•
The Fourth Gate
Mamarin Palace
Left-Hand Tower
•
•
•
•
Right-Hand Tower
•
•
•
•
Tibby's Mom
Shop
Shop No. 1
•
•
Shop No. 2
•
•
Shop No. 3
•
•
Shop No. 4
•
•
Shop No. 5
•
•
Shop No. 6
•
•