Fruit Basket
Time to put a fresh and surprisingly
literal spin on the idea of "street
basketball." Also, fruit!


Rhythm Heaven Megamix
Fruit Basket (フルーツバスケット?, Fruit Basket) is the 4th Rhythm Game of Machine Land (8th overall) in Rhythm Heaven Megamix.
The long version, Fruit Basket 2, appears in Machine Tower.
Gameplay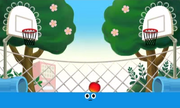 In this game, the player controls Courtney, the ground, who is trying to launch fruit into the hoops in a basketball court. Courtney must launch fruits by bouncing them to the beat as they roll across him. The apples require 2 beats, and the lemons require 4 beats.
Controls
Perfect!/Ace!

: The fruit is launched into the basketball net.

Early!/Late!

: The fruit is launched, but it misses the basket. Courtney has a shocked/dazed look on his face.

Miss...

: The fruit continues rolling without being launched.
Results
Word on the Street

Hmmm, you could use a bit more apple practice.
The lemons left you sour.

Eh. Passable.

How 'bout dem apples?!
Woohoo! Fresh-squeezed goodness!
Epilogue
I hope the rain stops soon...
You gotta sweat for it!
Nothing but net!
Basketball
Who Threw These?

Sometimes basketballs and fruit
come zooming over the fence
from the school next door.
I always look over the fence,
but there's no one there. Is the
basketball court haunted?
The Skill Star appears on the double lemons at the very end of the game.
Fruit Basket appears in the following Challenge Train courses:
Appearances
Video
Trivia
Some of the things Courtney can think about are:

A game of Tic-Tac-Toe
A pink Courtney
A dog
A hamburger and a shake
Himself as a skateboard
A spider
A panda
Unused
Main article: Fruit Basket/Unused
In Other Languages
Language
Name
Meaning
Japanese
フルーツバスケット
Furūtsu Basuketto
Fruit Basket
English
Fruit Basket
French
Paniers de fruits
Fruit baskets
German
Obst-Körbe
Fruit Baskets
Italian
Canestro di frutta
Fruit basket
Spanish
Frutoncesto
Pun on "fruta" (fruit) and "baloncesto" (basketball)
Dutch
Fruit Basket[1]
Portuguese
Fruit Basket[2][3]
Russian
Корзина с фруктами[4]
Korzina s fruktami
Fruit basket
Korean
과일 농구
Gwail Nong-gu
Fruit Basketball
References
Rhythm Tengoku (GBA/Arcade)
One Player

•

•

•

•

•


•

•

•

•

•


•

•

•

•

•


•

•

•

•

•


•

•

•

•

•


•

•

•

•

•


•

•

•

•

•


•

•

•

•

•


Arcade Exclusive


•

•

•
•

•


Two Player

•

•

•


•

•

•


•

•

•


•

•

•


•

•

•


•

•

•
Rhythm Heaven
•
•
•
•
•
•
•
•

•

•

•
•

•
•
•

•


•
•

•

•
•
•

•

•

•
•

•
•


•
•

•
•

•

•
•
•

•
•
•

•
Rhythm Heaven Fever
One Player


•

•

•

•


•

•

•

•


•

•

•

•


•

•

•

•


•

•

•

•


•

•

•

•


•

•

•

•



•

•

•

•


•

•

•

•


•

•

•

•


Two Player


•

•

•

•

•

•

•


Extra Games

Rhythm Heaven Megamix
Earth World
Honeybee Land

•

•

•

Machine Land

•

•

•

The First Gate

Citrus Land
•

•

•

Donut Land

•

•

•

The Second Gate
Barbershop Land

•

•

•


Songbird Land

•

•

•


The Third Gate


Lush Woods
Lush Tower

•
•

•

•

Honeybee Tower

•
•

•

•

Machine Tower

•

•
•

•

Citrus Tower

•

•

•

•

Donut Tower

•
•

•

•
Barbershop Tower

•

•

•
•
Songbird Tower

•

•

•

•

Heaven World
Star Land

•

•

•

Comet Land

•
•

•
Planet Land
•

•
•

The Fourth Gate

Mamarin Palace
Left-Hand Tower

•
•

•

•

Right-Hand Tower
•

•

•

•
Tibby's Mom
Shop
Shop No. 1

•

•

Shop No. 2
•

•

Shop No. 3

•

•

Shop No. 4
•
•
Shop No. 5
•

•

Shop No. 6
•
•