Fillbots
This factory builds robots. (What
did you expect?) It's your job to
fuel 'em up once they're built.


Rhythm Heaven Megamix
Fillbots (ロボット工場・オイル?, Robotto Kōjō - Oiru) is the 2nd Rhythm Game of Honeybee Land (2nd overall) in Rhythm Heaven Megamix.
The long version, Fillbots 2, appears in the first stage of Rhythm Heaven and Honeybee Tower in Rhythm Heaven Megamix.
The arrange version, Fillbots 2, appears in the eight stage of Rhythm Heaven.
Gameplay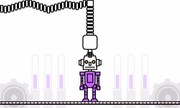 The game takes place at the fueling station of the factory, where Robots fall down and assemble themselves on the right side, before moving down the conveyor belt to the fueling pump. The objective is to hold down the pump at the right time to fuel up robots just the right amount. There are two kinds of robots the player will need to fill: a medium one (4 count) and a large one (8 count).
The background contains beakers with oil bouncing through them (timed to the offbeats in the music) and gears moving the conveyor belt.
Controls
Ⓐ (Hold)/

Tap

(Hold): Lower pump/fill robot
Ⓐ (Release)/

Tap

(Release): Release/stop filling
Perfect!/Ace!

: The robot is filled just enough and does a little dance as it continues down the conveyer belt. If the pump is released with perfect timing, they fly off.

Early!/Late!

: If the player mistimes dropping the pump, it hits the robot's head, causing it to tilt. If underfueled, the robot appears dazed and tilts its head from side to side. If overfueled, it grabs its head in a panic, with its eyes growing large.

Miss...

: The robot continues down the conveyor belt if the player doesn't do anything. If the robot is overly underfueled, it leaves with Xs in it's eyes. If the player keeps filling, the robot eventually explodes.
Results
Performance Review

Still haven't got the basics down.
You need more practice with the big ones.

Eh. Passable.

Those robots looked content.
You filled the big ones just enough.
Epilogue
A job half-done is
hardly done at all.
You did good out there.
Looks like you've made
some new friends!
Robo Juice
Something Amiss

I fuel up the robots. They take
an eco-friendly fuel made up
mostly of fruit juice. I hear it's
pretty tasty. My lunch is dried
ramen noodles. Why do the
robots eat better than I do?
The Skill Star appears on the first ROBO L in the game.
Fillbots appears in the following Challenge Train courses:
Appearances
Video
Trivia
Unused
Main article: Fillbots/Unused
In Other Languages
Language
Name
Meaning
Japanese
ロボット工場・オイル
Robotto Kōjō - Oiru
Robot Factory - Oil
English
Fillbots
From fill (referring to their fuel from juice) and robots.
French
Robothon
German
Rhythmoboter
Rhythmrobots
Italian
Disco Robot
Spanish
Robotellines
Robottles
Dutch
Fillbots[1]
Portuguese
Fillbots[2]
Russian
Заправщик для ботов[3]
Zapravshchik dlya botov
Oil for bots
Korean
로봇 공장·오일
Lobot Gongjang - Oil
Robot Factory - Oil
References
Rhythm Tengoku (GBA/Arcade)
One Player

•

•

•

•

•


•

•

•

•

•


•

•

•

•

•


•

•

•

•

•


•

•

•

•

•


•

•

•

•

•


•

•

•

•

•


•

•

•

•

•


Arcade Exclusive


•

•

•
•

•


Two Player

•

•

•


•

•

•


•

•

•


•

•

•


•

•

•


•

•

•
Rhythm Heaven
•
•
•
•
•
•
•
•

•

•

•
•

•
•
•

•


•
•

•

•
•
•

•

•

•
•

•
•


•
•

•
•

•

•
•
•

•
•
•

•
Rhythm Heaven Fever
One Player


•

•

•

•


•

•

•

•


•

•

•

•


•

•

•

•


•

•

•

•


•

•

•

•


•

•

•

•



•

•

•

•


•

•

•

•


•

•

•

•


Two Player


•

•

•

•

•

•

•


Extra Games

Rhythm Heaven Megamix
Earth World
Honeybee Land

•

•

•

Machine Land

•

•

•

The First Gate

Citrus Land
•

•

•

Donut Land

•

•

•

The Second Gate
Barbershop Land

•

•

•


Songbird Land

•

•

•


The Third Gate


Lush Woods
Lush Tower

•
•

•

•

Honeybee Tower

•
•

•

•

Machine Tower

•

•
•

•

Citrus Tower

•

•

•

•

Donut Tower

•
•

•

•
Barbershop Tower

•

•

•
•
Songbird Tower

•

•

•

•

Heaven World
Star Land

•

•

•

Comet Land

•
•

•
Planet Land
•

•
•

The Fourth Gate

Mamarin Palace
Left-Hand Tower

•
•

•

•

Right-Hand Tower
•

•

•

•
Tibby's Mom
Shop
Shop No. 1

•

•

Shop No. 2
•

•

Shop No. 3

•

•

Shop No. 4
•
•
Shop No. 5
•

•

Shop No. 6
•
•