In
Rhythm Heaven Megamix
, you can
Feed the Goat
. (Japanese: ヤギに エサを あげてネ
Feed the Goat Food
) The game plays out like a pachinko machine as you feed the goat turnips. It is available after completing Honeybee Land.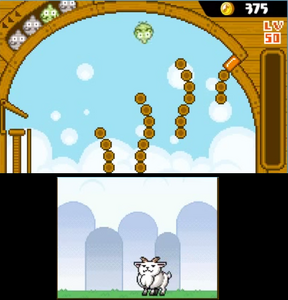 Information
The game plays out like a retro-styled arcade game complete with music and effects. The player has to throw the turnips at the goat while trying to avoid obstacles that prevent the turnips from reaching the goat. There are an infinite number of levels in the game.
The player can use Turnips, which grow in the cafe after playing rhythm games, to feed the goat, or use their coins. There are three different turnips you can use: normal (green,) turnips, silver turnips, and gold turnips. Silver turnips give out twice the amount of experience as a normal turnip. Gold turnips, on the other hand, can lead the player to a "chance" time, which gives out even more experience than usual and turns the goat golden. You'll get text on the screen reading "Turnip Fever!" (Golden Chance in Japanese) which allows you to endlessly throw golden turnips for a while, length depending on the "Chance" being bronze, silver or gold. The goat will return to her normal form after the time limit ends. Gold and silver turnips can only be obtained with coins, challenges, or Figure Fighter VS.
As the goat levels up, you will unlock various character sprites, called mascots, which appear during loading sequences. You have to get your goat to level 200 to unlock all of the mascots. Leveling the goat can also give you badges.
List of Unlockables
Level 10:
Boondog
and Level 10 Goat Badge
Level 20: Dieter
Level 30: Shep
Level 40: Donna
Level 50:
Hairold
and Level 50 Goat Badge
Level 60: Eglantine
Level 70: Trey
Level 80: Saffron
Level 90: Saltwater
Level 100:
Paprika
and Level 100 Goat Badge 
Level 110: Bertram
Level 120: Betty
Level 130: Tibby
Level 140: Phillip
Level 150: Colin
Level 160: Tibby's Mom
Level 170: Barista
Level 180: Goat
Level 190: Rupert
Level 200: Samurai Drummer and Level 200 Goat Badge
Trivia
The final unlocked character at level 200 is the Samurai Drummer, a recurring character who was to be the original "mascot" of the series, being the first thing the player talks to in Rhythm Tengoku.
In addition, you can also unlock the Barista, another recurring character in the series.
Sometimes, if you take too long, the goat will fall asleep.
After level 200, every board is a randomly selected board from a previous level.
After level 999, the level rate will turn into MAX and the background changes into a face of goat as a cloud.
A Mascot of Tibby walking normally is the only Mascot to not be obtained by this Rhythm Toy's means, as it is the default Mascot.
Community content is available under
CC-BY-SA
unless otherwise noted.