Catchy Tune
I like to hang out at the bottom of
these stairs, because sometimes
fruit bounces down them. Free fruit!


Rhythm Heaven Megamix
Catchy Tune (階段キャッチ?, Kaidan Catch) is the 4th Rhythm Game of Honeybee Land (4th overall) in Rhythm Heaven Megamix.
The long version, Catchy Tune 2, appears in Honeybee Tower.
Gameplay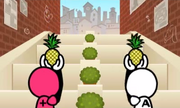 In this game, the player controls two characters, Plalin and Alalin, who have the "+" and "A" symbols on their backs, as they catch the oranges and pineapples that bounce down the stairs in an alley in the city.
The object of the game is to catch the fruit that drop from either the left or right sides of the screen. Plalin catches the ones on the left, and Alalin catches the ones on the right. The oranges are quick and bounce low (in three beats), but the pineapples are slower and bounce high (in three different beats).
Controls
Ⓐ/

Tap

: Catch as Alalin
✚/

Tap

: Catch as Plalin
Perfect!/Ace!

: The kid catches the fruit. If they catch fruit at the same time, they face each other, smile, and share a word bubble with a heart in it.

Early!/Late!

: The kid tries to catch the fruit, but it grazes it, causing it to fall behind their head.

Miss...

: The fruit falls on the kid's head, causing them to flinch.
Results
Passerby Comments

You missed some oranges.
The pineapples were tough, huh?

Eh. Passable.

You caught those oranges well!
Those pineapples can't get past you!
Epilogue
Little help?
More, more!
Fresh squeezed all the way, baby!
Paper Bag
Canvas Bags, Please!

I love the market on the hill,
but the bags they use are so
flimsy! Yesterday my bag ripped
and all of my fruit-salad
ingredients went bouncing
down the stairs!
The Skill Star appears during the double pineapples in the middle of the game.
Catchy Tune appears in the following Challenge Train courses:
Appearances
Video
Trivia
Unused
Main article: Catchy Tune/Unused
In Other Languages
Language
Name
Meaning
Japanese
階段キャッチ
Kaidan Jyatchi
Stairway Catch
English
Catchy Tune
A tune that's instantly appealing or memorable.
French
Escalier fruité
Fruity staircase
German
Fallobst
"Fall" and "Fobst" (Fruit)
Italian
Caduta frutti
Falling fruit
Spanish
Escalera frutal
Fruity staircase
Dutch
Catchy Tune[1]
Portuguese
Catchy Tune[2][3]
Russian
Запоминающаяся мелодия[4]
Zapominayushchayasya melodiya
Catchy melody
Korean
계단 캐치
Gyedan Kaechi
Stairway Catch
References
Rhythm Tengoku (GBA/Arcade)
One Player

•

•

•

•

•


•

•

•

•

•


•

•

•

•

•


•

•

•

•

•


•

•

•

•

•


•

•

•

•

•


•

•

•

•

•


•

•

•

•

•


Arcade Exclusive


•

•

•
•

•


Two Player

•

•

•


•

•

•


•

•

•


•

•

•


•

•

•


•

•

•
Rhythm Heaven
•
•
•
•
•
•
•
•

•

•

•
•

•
•
•

•


•
•

•

•
•
•

•

•

•
•

•
•


•
•

•
•

•

•
•
•

•
•
•

•
Rhythm Heaven Fever
One Player


•

•

•

•


•

•

•

•


•

•

•

•


•

•

•

•


•

•

•

•


•

•

•

•


•

•

•

•



•

•

•

•


•

•

•

•


•

•

•

•


Two Player


•

•

•

•

•

•

•


Extra Games

Rhythm Heaven Megamix
Earth World
Honeybee Land

•

•

•

Machine Land

•

•

•

The First Gate

Citrus Land
•

•

•

Donut Land

•

•

•

The Second Gate
Barbershop Land

•

•

•


Songbird Land

•

•

•


The Third Gate


Lush Woods
Lush Tower

•
•

•

•

Honeybee Tower

•
•

•

•

Machine Tower

•

•
•

•

Citrus Tower

•

•

•

•

Donut Tower

•
•

•

•
Barbershop Tower

•

•

•
•
Songbird Tower

•

•

•

•

Heaven World
Star Land

•

•

•

Comet Land

•
•

•
Planet Land
•

•
•

The Fourth Gate

Mamarin Palace
Left-Hand Tower

•
•

•

•

Right-Hand Tower
•

•

•

•
Tibby's Mom
Shop
Shop No. 1

•

•

Shop No. 2
•

•

Shop No. 3

•

•

Shop No. 4
•
•
Shop No. 5
•

•

Shop No. 6
•
•