Air Rally
Keep the rally going in this
badminton game! Try not to let
the birdie go out of bounds...


Rhythm Heaven Megamix
Air Rally (バドミントン, Badminton?) is the 3rd Rhythm Game of Honeybee Land (3rd overall) in Rhythm Heaven Megamix.
The long version, Air Rally 2, appears in Stage 3 in Rhythm Heaven Fever and Honeybee Tower in Rhythm Heaven Megamix.
Gameplay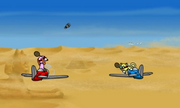 The game revolves around Baxter & Forthington having a game of badminton while flying in their planes. Every time Forthington hits the birdie, the player, who controls Baxter, must hit it back on the following beat. Forthington sometimes says "Ba-bum bum bum!" before hitting a birdie, indicating the player must wait two beats before hitting it back.
Controls
Perfect!/Ace!

: The player hits the birdie towards Forthington.

Early!/Late!

: The player hits the birdie, but it is knocked to the side.

Miss...

: The birdie flies past the player. If the player misses the last one, Forthington is quite disappointed.
Results
Observations from the Oasis

Your rally needed more pep.
The slow ones were a problem for you.

Eh. Passable.

Solid rallying.
The slow ones didn't trip you up.
Epilogue
This won't end well...
Let's concentrate on flying for now.
The only way to play badminton!
Forthington's Racket
Baxter's Rival

Ever since Forthington started
using this racket, I haven't been
able to keep up with him! I can't
believe how much better he's
gotten--I must practice...and
maybe buy a new racket!
The Skill Star appears on the second-to-last slow rally near the end of the game.
Air Rally appears in the following Challenge Train courses:
Appearances
Video
Trivia
At the start of the game, a flock of geese can be seen flying by. Sometimes, this flock is replaced by Captain Blue Bird and five members of The Blue Birds. One member is also seen in the Superb epilogue.
Unlike Air Rally 2, the game does not have the planes distance each other as a visual distraction. Forthington only moves at the very end, to catch the birdie.
Unused
Main article: Air Rally/Unused
In Other Languages
Language
Name
Meaning
Japanese
バドミントン
Badominton
Badminton
English
Air Rally
French
Badminton
German
Badminton
Italian
Partita al volo
Match on the fly
Spanish
A vuelapluma
Pun on the phrase meaning "quickly", literally "feather flight"
Portuguese
Air Rally[1]
Korean
배드민턴
Baedeuminteon
Badminton
References
Rhythm Tengoku (GBA/Arcade)
One Player
•
•
•
•
•
•
•
•
•
•
•
•
•
•
•
•
•
•
•
•
•
•
•
•
•
•
•
•
•
•
•
•
•
•
•
•
•
•
•
•
Arcade Exclusive
•
•
•
•
•
Two Player
•
•
•
•
•
•
•
•
•
•
•
•
•
•
•
•
•
•
Rhythm Heaven
•
•
•
•
•
•
•
•
•
•
•
•
•
•
•
•
•
•
•
•
•
•
•
•
•
•
•
•
•
•
•
•
•
•
•
•
•
•
•
•
Rhythm Heaven Fever
One Player
•
•
•
•
•
•
•
•
•
•
•
•
•
•
•
•
•
•
•
•
•
•
•
•
•
•
•
•
•
•
•
•
•
•
•
•
•
•
•
•
Two Player
•
•
•
•
•
•
•
Extra Games
Rhythm Heaven Megamix
Earth World
Honeybee Land
•
•
•
Machine Land
•
•
•
The First Gate
Citrus Land
•
•
•
Donut Land
•
•
•
The Second Gate
Barbershop Land
•
•
•

Songbird Land

•
•
•

The Third Gate

Lush Woods
Lush Tower
•
•
•
•
Honeybee Tower
•
•
•
•
Machine Tower
•
•
•
•
Citrus Tower
•
•
•
•
Donut Tower
•
•
•
•
Barbershop Tower
•
•
•
•
Songbird Tower
•
•
•
•
Heaven World
Star Land
•
•
•
Comet Land
•
•
•
Planet Land
•
•
•
The Fourth Gate
Mamarin Palace
Left-Hand Tower
•
•
•
•
Right-Hand Tower
•
•
•
•
Tibby's Mom
Shop
Shop No. 1
•
•
Shop No. 2
•
•
Shop No. 3
•
•
Shop No. 4
•
•
Shop No. 5
•
•
Shop No. 6
•
•